Amidst all of the change in my life, it is important for me to have some old routines that are familiar. Every day I get up to my same old tooth brushing and face washing routine and followed by about 16 ounces of warm lemon water to start my day. The whole thing takes about 20 minutes and provides me with a moment to reflect on my day. I try to only ask myself two questions during this time: What do I want to accomplish today? What did I do yesterday that made me truly happy? Generally, I am about 10% successful about staying focused on those two questions and instead my brain fires at the speed of light with many other unrelated thoughts. For me though, the goal is not to succeed at staying focused (though I really really want to) but the daily routine of trying that is important. I started this routine the first morning I was in France.
Exercise is another important part of my routine. When I am at home in Birmingham, I take a spin class 1-2 days a week, a circuit training class 1-2 days a week, a yoga class one day a week and run/walk 1-2 days a week. Getting back into some sort of exercise routine has evolved a bit more slowly in Bordeaux. I had done a yoga workout from the internet on my first day here to relieve plane aches and pains and have been walking nearly 6 miles every day from just regular daily activities. Plus, I have to descend and then climb 3 flights of stairs (57 total stairs) every time I leave the apartment, even just to take out the trash or recycling. So I was getting plenty of daily movement but I have missed my regular exercise routine
I finally managed to get in my first run yesterday. I am not really a distance runner but I do love a good sprint interval workout a couple of times per week. I try to go about 3 miles (5 km) total in about 30 minutes. It is a combination of walking and running with the running intervals no longer than half a mile and usually more like a tenth to a quarter of a mile. During that time, I try to run as hard as I possibly can which, according to my watch, is usually around a 6 minute mile. This helps me to do something my wake up routine generally fails to do…..clear my head. When I am running like a zombie is chasing me, I can't think about anything besides properly placing my foot, controlling my breathing, and diving my next knee forward.
So my daily/weekly routines from home are starting to come together a bit more. But I also wanted my son to develop some routines of his own (outside of watching other people play on the internet). So as we spent a couple of days watching French children play, we noticed many children had scooters. We went to the Decathlon, a sporting goods store on Rue Sainte Catherine. Our apartment is right next to Rue Sainte Catherine which is this amazing pedestrian only street full of shops. It is one of the longest pedestrian only shopping streets in Europe. They have an H&M, a Zara, jewelers, home goods, bakers….you name it and you can find it on Sainte Catherine. It is packed from about 11 am until who knows when (the French stay up later than me). On the weekends and Wednesdays, it is as crowded as Bourbon Street in New Orleans during Mardi Gras.
So we went into the Decathlon to see how much a scooter would be. We went in and headed upstairs to find the trotinnettes (scooter in French). A very nice salesman helped us find the perfect scooter. Although he clearly spoke English, he conversed with me in French the whole time. Since my son doesn't speak much French yet, he spoke with my son in English. He helped us find a helmet (although we haven't seen many children wearing helmets) and all other gear we needed. It was so cheap. We were able to get a scooter, helmet, roller blades and gloves for less than one hundred euros. We were off on a wheeled adventure which turned into a wheeled routine.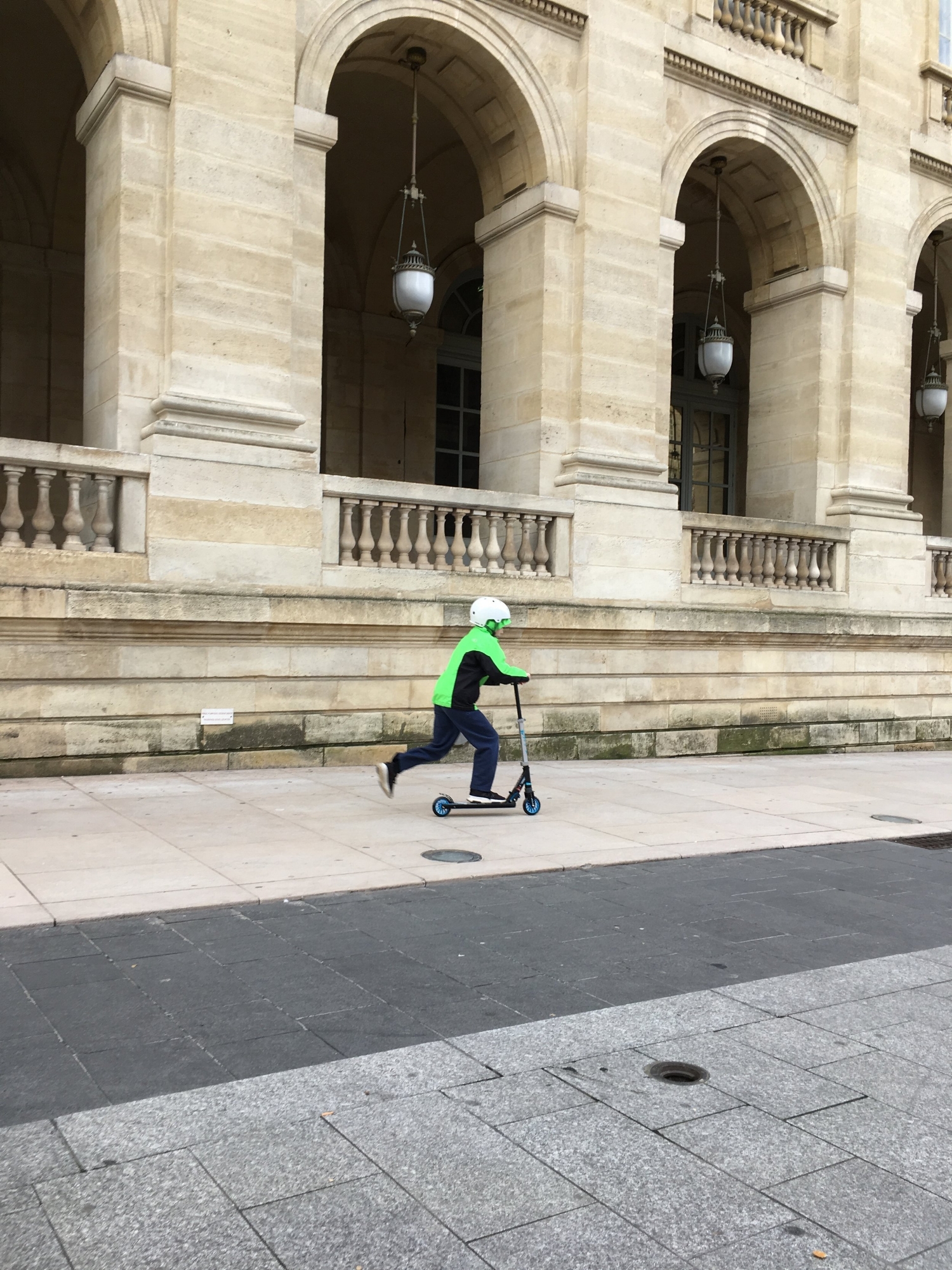 Scooting around the Grand Théâtre. He might be the only one who wears neon green in Bordeaux but at least he is easy to find.
Everyday we try to head down to la Garonne quai rive gauche (Garonne river left bank). This link https://www.bordeaux-tourisme.com/Decouvrir-Bordeaux/Incontournables/Les-quais-rive-gauche describes it perfectly. My husband and I walk while my son scoots (or roller blades). I have heard whisperings that my husband may even get a scooter. Many adults use scooter and/or bikes to get around in the Bordeaux Centre Ville (center city). Although scooting and walking are not usual parts of our routine in Birmingham, I love getting out as a family every day here. And physical activity was always a part of my son's routine back home. He walks home from school and had a scooter that he rides around in our back yard. So finding this activity has helped him identify familiar routines too.